KB Performance, 1340 Evo B. T. Forged Piston Kit 040 for Harley Davidson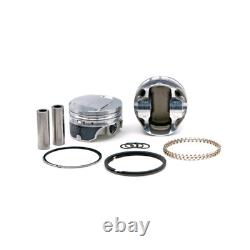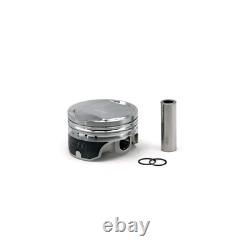 KB Performance, 1340 Evo B. Forged Piston Kit 040 for Harley Davidson. The description of this item has been automatically translated.
KB Performance, 1340 EVO BT Forged Piston Kit. 9.5:1 CR with 80cc head. Head type: Dome with -8.5cc.
All KB forged pistons are made from 4032 alloy, a 11% silicon alloy that is formed in a forging press. Forging aluminum gives a superior strength and structural integrity on a molecular level, after which it is fully machined. The combination of this alloy and the forging process allows the piston to flex under detonation, or pre-ignition, giving the best resistance to cracking. Although 4032 has a low expansion rate, it is higher than the cast Hypereutectic.
Therefore forged KB pistons will require about. 001 wider piston to wall clearance. Note: All KB forged pistons come equipped with offset wrist pins / piston pins.
There is a front and rear section on the piston and it is necessary to install it in the correct way. Please refer to the installation instructions, as provided with the piston set, prior to installation. Fits: > 84-99 1340cc Evo BT (NU). Sorry, our items are NOT available for pick-up.
No additional information at this time. Transmission Sprocket Holding Tool For Harley-Davidson Sportster. Jims 3-Hole Crank Pin For Harley-Davidson.
Tear Drop FXST Tool Kit For Harley-Davidson.

---